These are the Kanto Region Legendaries
Mew is said to have the DNA of every single Pokémon contained within its body, and as such is able to learn any attack. You can find him on top of a tree near the Lugia Tower
Health        Moves/Damage
500         AncientPower(~160),Confusion(40),Lightscreen(Blocks),Pound(70)
Legendary BirdsEdit
They all share similar attributes and are considered equal among themselves.The legendary birds also share a master in Lugia.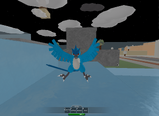 It flies from icy mountain to icy mountain. According to legend, it appears before doomed travelers lost in icy regions. it can be found underneath the ice lake
Health        Moves/Damage
550         AncientPower(~160),IcyWind(80*),Icebeam(200),Rest(SelfHeal)
*It's a wave form so it does the same amount of damage repeatedly as long as the player is being hit by the wave.

Zapdos reportedly appears only during thunderstorms, and is said to live among thunderclouds. It can be found in a temple when a yellow bolt of lightning strikes the ground. (Go in the bolt)
Health        Moves/Damage
550         AncientPower(~160),DrillPeck(N/A),ZapCannon(250),Rest(SelfHeal)
Not added
Ad blocker interference detected!
Wikia is a free-to-use site that makes money from advertising. We have a modified experience for viewers using ad blockers

Wikia is not accessible if you've made further modifications. Remove the custom ad blocker rule(s) and the page will load as expected.